We at Sree Kailas Group have been guided by an able administrator - our MD Mr. S Rajkumar, whose futuristic ambitions and motivation has lead the company to be recognized by various institutions of high repute, Kerala government, the local machinery and individuals. We have been associated with lot of accolades that needs no due recognition as such high level of systematic approach and vast knowledge of experience is sure to bring in recognitions in the form of awards.
2010 AWARDS for Sree Kailas Group
First P K Ittoop Memorial Award for Industry is being awarded to Mr. S Rajkumar, Managing Director, Sree Sakthi Paper Mills.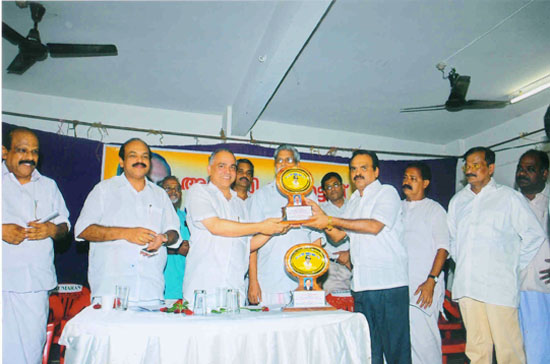 CHARITY
Sree Kailas Group Managing Director has been known for his undying spirit in helping humanity. He believes in charity as he feels that he is duty bound to give back the society which has given him so much fame and recognition. He believes it a personal approach that needs no publicity.
The group has two charitable trusts namely Sree Sakthi Ganapathy Charitable Trust and Sree Sakthi Murugan Charitable Trust.
The trusts have undertaken lots of social activities under the initiatives of the mentor and have been donating clothes for all the blind students of Kizhmad Blind School, Alwaye for more than a decade and Onam Sadhya on Thiruvonam for around 6000 devotes at Vamana Moorthy Temple in Ernakulum every year.
Sree Kailas Group has published three religious books namely – Sri Vishnu Sahasranama Sthothram, Sri Lalitha Sahasranama Sthothram and Holy Bhagawad Geetha. The first free distribution was done by Justice Paripoonam, retired, Supreme Court Judge.